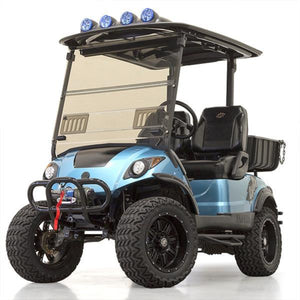 Tinted Yamaha Drive2 1/4" Fold-Down Windshield with Vents (Years 2017-Up)
Who likes rain in their face when driving? Our flexible design allows you to protect yourself from the elements while getting some fresh with our adjustable air vents. Each vent on this windshield is adjustable and tightens with a locking thumb screw, allowing you control of how much airflow is coming into the cart. Then on those hot days, you can fold down the windshield for maximum ventilation.
Specifications:
Fits Yamaha Drive2 2017-Up models
Tinted, High-quality 1/4" thick acrylic
Snug, vibration-free fit
Rubber trim at the bottom
Left and right vents for additional airflow
Installation hardware included
Made In The U.S.A.
Dimensions:
Width: 38-3/4"
Overall center height (including hinge): 33-1/2"
Please Note: Do not remove protective film until you've dry-fitted your windshield. Removing the protective film make windshield ineligible for return.
Windshield Dimensions:
Overall Height (including hinge): 37.625"
Top Width (widest point): 38.75"
Bottom Width (widest point): 38.75"
Please Note: Dry fit windshield before removing protective film from windshield. Removal of protective film will make the windshield ineligible for return.
---