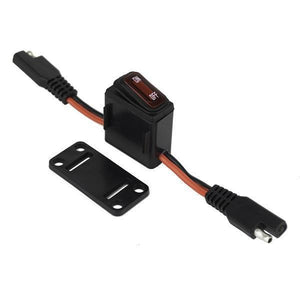 Bazooka PR-ILS16 LED Back Lighted Inline 12V Switch (16A)*
This inline switch allows you to easily turn the power off or on. It has some of the same standard SAE connectors used on all of the Power Rail accessories and plugs right in without cutting or splicing any wires. This gives you full control of the power to your accessories. The switch also features a red LED backlight indicator that lets you know when the switch is on and receiving power.

The inline switch can be added to the main power wire to your electronics, top or console, which allows you to completely kill the power to them when storing your machine.
Features:
Easy to install, plugs right in without cutting or splicing
Completely kills power to electronics when you store your golf cart
Red LED back light indicator lets you know it's working
Return & Warranty Information
For any warranty issues please contact Bazooka customer service directly @ 888.651.1203 Monday Through Friday 8am to 6pm ET
You can also visit their website: www.bazooka.com/returns
---