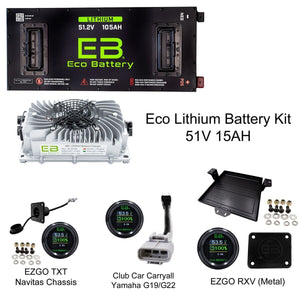 Eco Battery 51V 105aH "Skinny" Lithium Golf Cart Battery Kit for Yamaha G19/G22
The Eco Battery lithium bundle gives your cart the performance upgrade in torque and speed you've been looking for. Why stop there? Your cart won't. Upgrading your cart batteries to lithium can also increase your drive time up to 40-45 miles. With higher max and continuous amp output than its competitors, the Eco LifePo4 Battery is a top choice to pair with your high performance upgrades.
Top Features
8 YEAR WARRANTY
Higher output for more power and longer run times: 600A max (3 sec), 300A max (30 sec), and 175A continuous discharge

5x lighter than lead acid

8 Year Warranty, backed by Eco's best in class Customer Support

Easy Install, this battery bundle comes with everything you need to replace your battery

Proprietary BMS (Battery Management System) guarantees it will work with your motor & controller upgrades

Hookup 2 Batteries in parallel in order to maximize range, up to 90 miles!
This Bundle Kit Includes/Comes with at no extra cost to you:
48V 105Ah LifePo4 Battery "Skinny"

Mounting Bracket

51V Charger (Locking Quick Connect)

CAN Digital 5V Gauge Kit

Charge Port (Locking)
Battery Weight + Dimensions:94.00 LBS Width:13.14 (in) Height:12.24 (in) Depth:10.15 (in)
WHY SHOULD YOU UPGRADE TO LITHIUM FROM LEAD ACID?
10X LIFE SPAN 
Lithium batteries last 10 times longer than lead acid batteries. Spend less time replacing batteries, and more time cruising.
ZERO MAINTENANCE 
You never have to add water again! Plus, no more acid spills, smells, or corroded terminals.
5X LIGHTER 
A single lithium battery is 5X lighter than lead acid, giving you 2X the run time. A single battery solution will also free up space in the battery bay for additional storage solutions, or better yet, an onboard charger.
FASTER CHARGE 
Lithium batteries charge faster than lead acid systems. And there is no memory effect, so you can charge partially or fully, at any time.
ABOUT ECO BATTERY
Eco Battery is a U.S. based company and was formed with a desire to build the best lithium batteries on the planet. Through tireless hours of R&D, they have designed all of their batteries to provide years of trouble free service. They only use the highest quality LiFePo4 cells from the best manufacturers in the world. Every Eco Battery contains cells that are meticulously sorted and matched for both capacity and resistance.
General Specification:
Nominal Voltage: 51.2V
Working Voltage 43.2V - 58.4V
Recommended Voltage 48V - 57V
Cells 16
Nominal Capacity 105Ah
Energy 5,376Wh
Reserve @25A 2522 Minutes
Self Discharge 1% Per Month
IP Rating IP67
Physical Specifications:
Cell Chemistry Lithium Iron Phosphate
Cell Type Prismatic
Cell Configuration 1P16S
Series Connectable No
Parallel Connectable Yes, up to 2
Weight 102.2 lbs (46.3Kg)
Dimension LxWxH  22"X9.75"X10.43"
Terminal Type M8 Female
Shell Type Powder Coated Steel
---