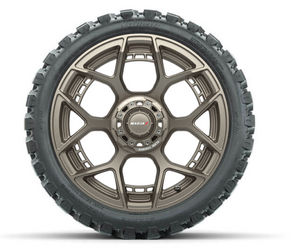 GOLF CART 15"x7" BRONZE FLOW FORMED WHEELS and 23"x10"-15" DOT ALL TERRAIN TIRES
MadJax® Evolution is the first golf car wheel produced using Flow Form Technology. This process delivers a thinner and lighter wheel while increasing the tensile strength. Flow forming is arguably the most advanced manufacturing process brought to the wheel industry.
Tread Classification:
Full kit includes:
(4) 15x7 MadJax® Evolution Flow Form Wheels / Matte Bronze Finish
(4) 23x10-R15 GTW® Nomad DOT Tire (4-Ply)
(4) MadJax® center caps
Lug nuts sold separately
Please Note: All Wheels are 4 on 4 Hole / Lug Pattern unless otherwise specified.
Tech Tips:
This Tire & Wheel Combo Requires a Lift Kit
Tire & Wheel Combos are mounted and Inflated Before Shipping, Free of Charge
Please Check and Adjust PSI in Tires Before Operation (Recommended Inflation Can Be Found on Sidewall of Tire)
All Wheels Have a lug pattern of "4x101.6mm"
Lug Nuts Sold Separately:
---