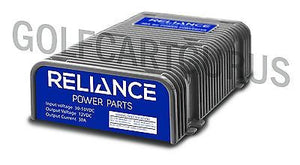 GOLF CART DC CONVERTER 30 AMP 48V 48 VOLT 36V 36 VOLT VOLTAGE REDUCER 12V
Check out this easiest 5 wire install on the market! Highest quality backed by 1 year warranty from tthe time you receive it!
TOP OF THE LINE AND CORRECT WAY TO INSTALL YOUR GOLF CART ACCESSORIES FOR ALL ELECTRIC GOLF CARTS WITH VOLTAGE RANGING FROM 36-48V
Handles up to 30 Amp with switched and non switched power! (so you can run your accessories with your cart on or off, your choice!!!)
DC Power converter to reduce your 36 volt or 48 volt electric cart to 12 v to run all of your accessories. Connects to entire battery pack instead of just one battery which improves the life of the batteries
Works with 36 volt and 48 volt applications
Powder-coated aluminum housing with heat dissipating design
Includes wiring pigtail for installation
30 amp output allows multiple accessories to be connected and powered at the same time
Will work on all 12 volt accessories such as Headlights & Taillights, Radios & Fans
Backed buy a 
1 year warranty and you can received this in 1-3 business days!!! 
Check the feedback!
FREE SHIPPING ONLY IN THE CONTINENTAL US 
---