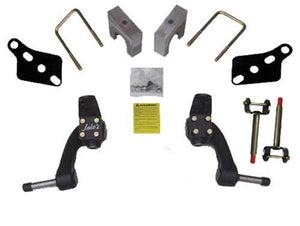 Select your Jakes Lift Kit here
Jake's spindle lift kits ALL ARE MADE IN THE US!!
are easy to install
provide the right amount of lift for the casual driver or the off-road enthusiast
Features:
Cast from ductile iron, 3X stronger than gray iron which gives superior strength compared to other welded spindle kits
Lengthens the wheelbase and squares up the cart for added stability
No cutting or welding, Comes with detailed instructions and all necessary hardware
Made in the U.S.A!
CHOOSE YOUR LIFT AND RECEIVE IT FAST!!!
Florida

Pennsylvania

Georgia

Arizona
Receive your LIFT in 1-3 days
Illustrated
picture may have more or less items than the lift you need. Lift will be new in the box and complete
---